National Material L.P. and its affiliates, including Taber Extrusions, have a long history of quality and service dating back to 1964. Since its founding, National Material L.P. has grown to over 30 business units and is now one of the largest suppliers of steel in America. The National Material group of industrial businesses consists of the Steel Group, Stainless and Alloys Group, Raw Material Trading Group, Aluminum Group, and Related Operations.
Taber Extrusions is a growing aluminum extrusion company that recently completed significant renovations to their aluminum cast house. Now, Taber can manufacture aluminum billets in 8", 9", 11", 16", and 20" sizes, along with a 10" x 28" rectangular billet used only in-house on Taber's 8600-ton press. Because Taber controls the billet casting, they have greater flexibility in our casting chemistry.
These upgrades allow Taber the ability to align their cast house, fabrication, and extrusion services all under one roof, in an effort to improve the quality of its products throughout every step of the manufacturing process. This opens up opportunities in a variety of markets — not only in aluminum profiles, but also with the sale of cast billet to outside extruders.
For more in-depth details on Taber's cast house modernization, read their recent article in Light Metal Age Magazine: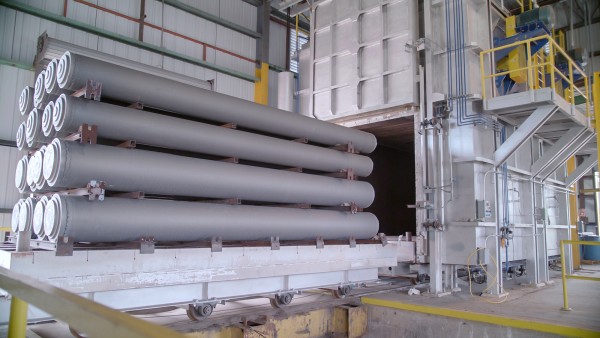 Aluminum billets being fed into a homogenizing furnace.
Taber also continues their production of a wide range of aluminum extrusion sizes and shapes. These aluminum extrusion capabilities utilize both hard and soft aluminum alloys—the kind found in aerospace, marine and military applications. The company's profile capabilities range from industry standard extrusions to intricate custom designs that meet specific needs. Learn more about Taber's extrusion capabilities here.
It's through strategic partnerships that companies truly begin to flourish. That's the philosophy National Material L.P takes when they take a business under their wing, and both National Material and Taber Extrusions are far stronger because of it.
Companies that possess a compelling history often inspire an extraordinary kind of commitment amongst their workers. It is this very dedication that leads to a strong and successful corporate legacy.
"The heart of any company lies within its people." says National Material L.P. President & COO Ted Riddle. "(We have a) rich company culture and diverse, empowered workforce. National Material Company focuses on supporting and developing mission-driven leaders to ensure future success. Being a minority-owned business is not just a certification… it depicts the cultural diversity that makes up the company."
View Taber Extrusions website here: http://taberextrusions.com
Contact National Material @ info@nmlp.com or call (U.S.) 847-806-7200