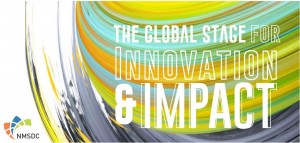 "The very identity of the American people – culturally and ethnically – is evolving quickly. That points to a transformative future, especially for minority-owned businesses in national and global supply chains. NMSDC has the tools, the connections and the vision to help you find your place in that future." Says Adrienne Trimble, President & CEO, National Minority Supplier Development Council. "We are supported by 1,595 corporate members, serving them and 12,000 certified minority businesses. The total economic impact of NMSDC's MBEs exceeds $400 billion dollars, tied to the creation of 2.3 million jobs."
Chartered in 1972 to provide increased procurement and business opportunities for minority businesses of all sizes, The National Minority Supplier Development Council (NMSDC)  is the global leader in advancing business opportunities for its certified Asian, Black, Latin, and Native American business enterprises and connecting them to member corporations.
The NMSDC Conference and Business Opportunity Exchange is the nation's premier forum on minority supplier development. For four days, more than 6,000 corporate CEOs, procurement executives and supplier diversity professionals from the top multinational companies, as well as leading Asian, Black, Latin, and Native American business owners and international organizations convened in Austin, Texas to re-energize their collective efforts to certify, develop, connect, and advocate for solid minority firms in the global corporate supply chain.
This "MBE event of the year" featured more than 20 targeted sessions and workshop, a one-day Business Opportunity Exchange with more than 700 exhibit booths, a black-tie awards banquet and, of course, endless opportunities to network.
2018 conference highlights included:
MetLife-supported Emerging Young Entrepreneurs program's intensive workshop
U.S. Department of Commerce's Minority Business Development Agency, kicking off its annual National Minority Enterprise Development Week
NFL star and real estate entrepreneur Emmitt Smith speaking at the conference's opening breakfast
Wells Fargo's announcement of its sponsorship of NMSDC's CEO Academy program
The Business Opportunity Exchange, a unique, national trade fair with more than 700 booths showcasing corporations and minority business enterprises looking to connect and extend their business dealings with one another
NMSDC's Corporate Plus® program featuring some of its most successful corporate members, including Fortune 500 MasTec and the nation's largest producer of natural gas, EQT
To meet the growing need for supplier diversity, NMSDC matches its more than 12,000 certified minority-owned businesses to our network of more than 1,750 corporate members who wish to purchase their products, services and solutions. NMSDC, a unique and specialized player in the field of minority business enterprise, is proud of its unwavering commitment to advance Asian, Black, Latin, and Native American suppliers in a globalized corporate supply chain. For more information, visit www.NMSDC.org.
National Material Company is proudly certified as an MBE supplier of steel manufacturing
National Material Company has been attending the annual NMSDC Conference for decades, and was awarded the prestigious Supplier Partner Award for 2015 by the company Meritor, who presented to partners who "achieved excellence in quality, delivery, cost savings, and innovation in fiscal year 2015." This award marks the continued growth of National Material's role as a major supplier within the automotive industry, a trend which continues through 2018 and beyond. With headquarters in Troy, Michigan, Meritor specializes in supplying high quality automotive products and is a globally leading supplier of drivetrain, mobility, braking, and aftermarket solutions for commercial vehicle and industrial markets.
Why partner with a certified MBE?
Better quality products, services, and solutions as a result of a diverse supply base
Showcases the company's support of the economic growth of all communities
Demonstrates a commitment to new thinking and ideas
Certification ensures minority eligibility is established through screenings, interviews, and site visits
Visit the National Material Company website for more information on MBE or
contact Wendell Davis, NMC's Manager of Minority Business Development:
Phone: (847) 806-4742 | Email: mailto:wdavis@nmlp.com