National Material's steel and metal supply chain management services are designed to meet the needs of each and every customer, tailored to meet today's requirements and tomorrow's growth goals. Our specialized team of steel and metal experts are strategic partners positioned to work with customers directly. We offer solutions serving many industries including automotive, agriculture, heavy truck/equipment, electrical/industrial enclosures, HVAC, appliance, construction, general stampers, and roll formers.
Founded in 1964, National Material Company offers 50+ years of leadership in supplying, processing, and servicing the metal manufacturing needs of diverse industries. With processing facilities and service centers in the U.S. and Mexico, NMC is strategically located to deliver its substantial capabilities.
How NMC delivers value at every step in the supply chain:
Processing
No matter how big the task, NMC can handle it
Slitting
Pickling
Blanking
Stamping
Galvanizing
Logistics optimization
Materials from A to B at lowest possible cost
Cost-efficiently linking 14 plants, steel mills, and a certified processor network
Total freight cost in 1 invoice: mill to processor to OEM
Custom designed for all NMC programs
Diversity programs
NMC is the largest certified MBE Metal Supplier in the U.S.
Supports your diversity spend goals
Pricing programs
NMC provides numerous pricing options:
CRU-indexed contracts allow prices to change
Directed buy pricing – OEM negotiates price with mill, NMC buys metal at "directed" price
Firm price for a short period (up to a quarter)
Resale option – OEM negotiates price with mill, processor "resales" back to OEM at a price that includes value-add services
Spot pricing – one-time purchase with quick turnaround
Hedging/futures eliminates price volatility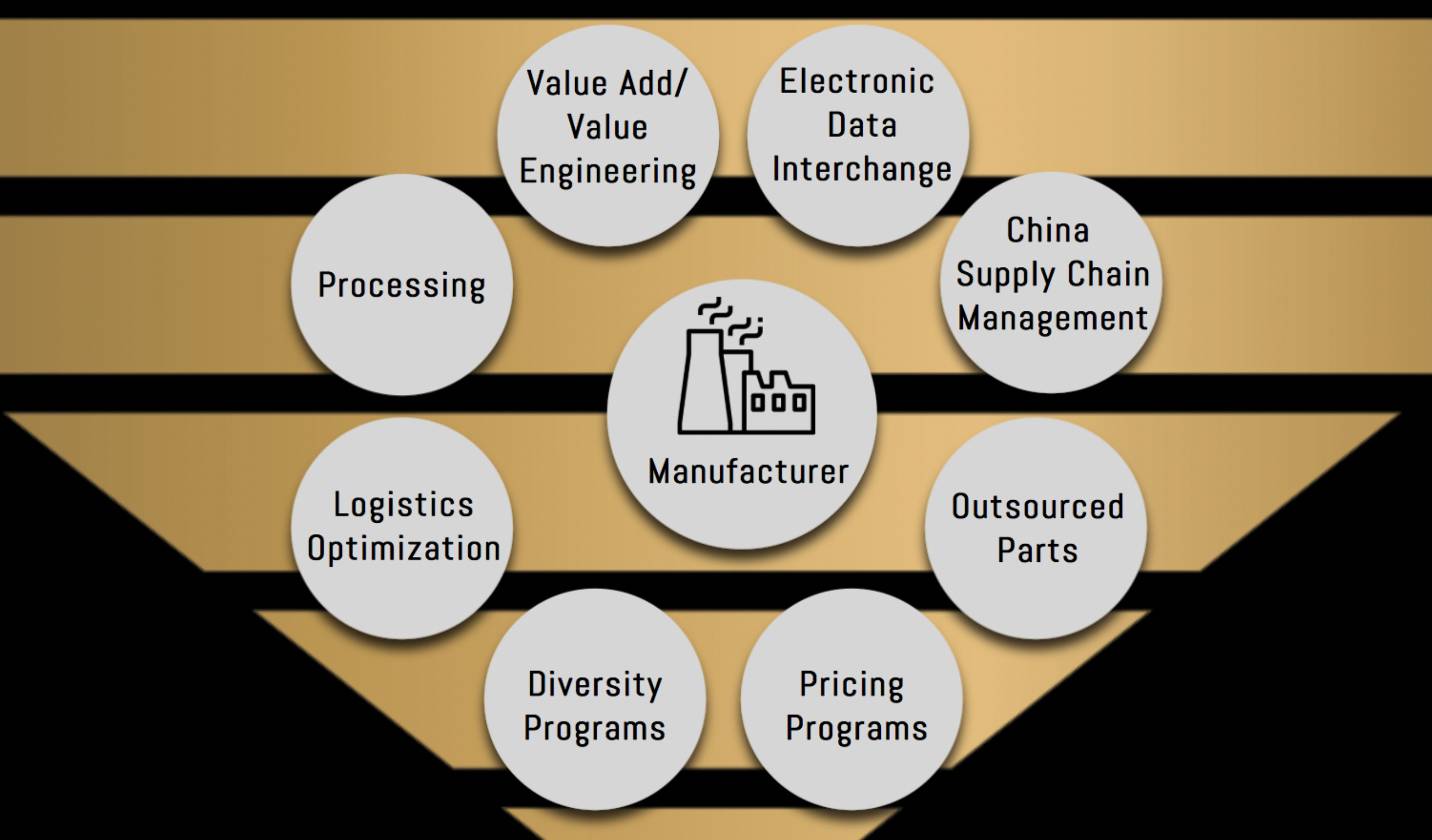 Value added/value engineering
Providing value over & above the price of the steel
Part appraisals
Mass reduction—light weighting
Product & process training
And more…
Electronic data interchange (EDI)
Increases accuracy and efficiency of transactions
Automated transaction processing
Eliminates keystroke errors
Reduce administrative costs
China supply chain management
NMC has extensive operations in China
Expertise in sourcing metals and parts within China
Import parts from China to North America
Automotive tool & die manufacturer within China
Tool and die engineering services
Outsourced parts
Using a network of partners, NMC can provide
Stamping
Laser
Roll form
Press break
Welding
And more…
14 steel service centers across North America
Our 14 plants have a processing capability of over 2,000,000 tons per year, and a total of 3.2 million square feet under roof.
Our plants are strategically located to save our customers on freight and shipping costs, which often ends up being a significant chunk of an OEM's orders to a manufacturer.
13 plants with processing capability of over 2,000,000 tons/year
2 million square feet under roof
Plants strategically located to save you freight costs (truck, rail, barge, etc.)
Access to expanded capabilities through our parent company, National Material Limited Partnership, as well as multiple joint ventures partnerships
About National Material L.P. – With more than 3,000 employees from a multinational portfolio of companies, NMLP provides engineered metal products, which include aluminum extrusion and stainless steel rolled product companies, to automotive, aerospace, construction, defense, electrical, and industrial markets.
Visit National Material: http://www.nationalmaterial.com or call (U.S.) 847-806-7200, Diana Pulido.