National Material L.P. and its metal service centers have a long history of quality and service dating back to 1964. Since its founding, N.M.L.P. has grown to over 30 business units and is now one of the largest suppliers of steel in America. The National Material group of industrial businesses consists of the Steel Group, Stainless and Alloys Group, Raw Material Trading Group, Aluminum Group, and Related Operations. Today, we tip our hat to Taber Extrusions, as we recognize this aluminum extrusion company for their expanded capabilities and flawless teamwork.
Taber Extrusions, located in Russellville, Arkansas is a highly regarded full-service provider of aluminum extrusions to a wide variety of industries including aerospace, transportation, defense, and thermal management. Taber has completed the relocation and start-up of the recently acquired micro-extrusion press lines. ISO 9001 and AS9100 certified, Taber's present and future customers can expect to see increased supply opportunities with the expanded set of extrusion solutions, programs, and services.
"It's about having all the different capabilities we can to meet the extrusion end users growing needs," states Jason Weber, Taber Extrusions Vice President of Sales and Marketing, in a recent article by Light Metal Age Magazine. "One of the taglines we use is 'Shaping Endless Possibilities.' With the extensive variety of extruded shapes Taber produces—from micro-extrusions to wide profiles and everything in between—Taber embodies that message."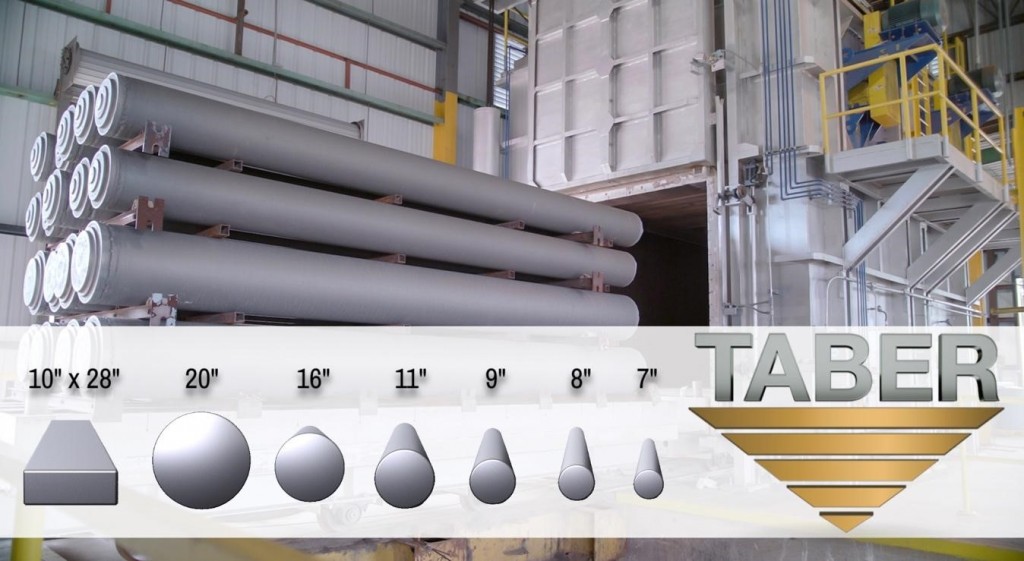 This couldn't be more true as Taber also announces the planned addition of 7" billet molds to Taber's existing extrusion billet casting facility in Gulfport, MS. Taber's addition of the 7" molds further enhances Taber's existing offering of extruded aluminum billet products to Taber's newly refurbished Gulfport Casthouse. 7" extrusion log will be available for delivery beginning in January 2019.
The addition of the 7" molds complements the existing 8", 9", 11", 16", and 20" diameter molds. The various diameters of extrusion billet will be available in 6063 and 6061 alloy chemistries as well as specialized chemistries upon request. "Taber is excited to offer extrusion logs to our fellow extruders," adds Weber. The Gulfport Casthouse is uniquely situated with port access as well as easy access to industrial scrap. These input factors coupled with the recently refurbished casting equipment with the LARS® in-line degassing and purification system supplies billet chemistries and consistencies which rival those of larger billet producers.
If you have any questions please visit taberextrusions.com or contact one of Taber's Regional Sales Managers.
Follow Taber Extrusions
LINKEDIN: https://www.linkedin.com/company/taberextrusions/
FACEBOOK: https://www.facebook.com/taberextrusions/
TWITTER: https://twitter.com/taberextrusions
Looking for a partner as strong as you are?
Founded in 1964, National Material Company L.P. offers 50+ years of leadership in supplying, processing and servicing the metal manufacturing needs of diverse industries. With processing facilities and service centers in the U.S. and Mexico, NMC is strategically located to deliver its substantial capabilities.