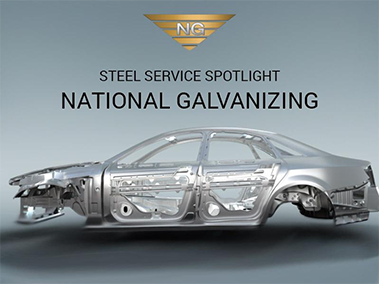 National Material L.P. and its metal service centers have a long history of quality and service dating back to 1964. Since its founding, N.M.L.P. has grown to over 30 business units and is now one of the largest suppliers of steel in America. The National Material group of industrial businesses consists of five groups; Steel, Stainless and Alloys, Raw Material Trading, Aluminum, and Related Operations.
National Galvanizing, located in Monroe, Michigan is an ISO 9001:2008 certified leader in the heavy gauge galvanizing industry. Their 245,000-square-foot, state-of-the-art facility offers multiple services including pickling, galvanizing, galvannealing, and slitting, all in one location. This combination of capabilities provides customers with unparalleled responsiveness to meet the ever-changing demands of today's steel market.
National Galvanizing is a joint venture between National Material L.P. and Heidtman Steel, and has been leading the heavy gauge galvanizing industry since 1984.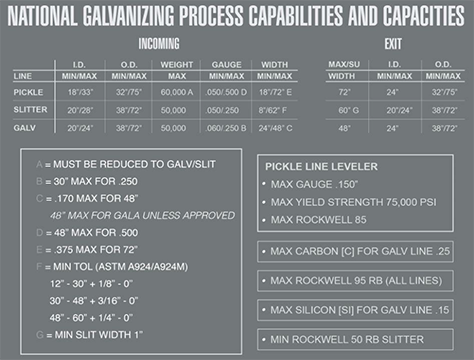 Advantages of Galvanized Steel
Galvanized Steel is treated with zinc to create a long-lasting alloy that is resistant to rust and corrosion. This process creates a final material with the strength and formability of steel plus the corrosion protection of zinc-iron coating. Zinc protects the base metal by acting as a barrier to corrosive elements, and the sacrificial nature of the coating results in a long-lasting and high-quality steel product.
Rust Resistance: The iron elements in steel is incredibly prone to rusting, but the addition of zinc acts as a protective buffer between the steel and any moisture or oxygen.
Easy Inspection: It's easy to tell how strong a galvanized coating is just by looking at it. There are also quick stress tests that can determine how thick the zinc coating is.
Sacrificial Anode: This ensures that any damaged steel is protected by the surrounding zinc coating. It doesn't matter if the steel section is completely exposed; the zinc will still corrode first.
Longer Life: With galvanization, a piece of industrial steel is expected to last more than 50 years in average environments, and can last over 20 years with severe water exposure. No maintenance required.
Galvanizing Advanced High-Strength Steel
In addition to leading the heavy-gauge galvanizing industry, National Galvanizing also provides complex galvanizing chemistries that allow for the galvanizing of advanced high-strength steel.
Galvanizing advanced high-strength steel, versus galvanizing regular steel, is a more sophisticated process. First, the coils of steel are cleaned and put through both a zinc pot and chemical treatment to passivise the rust. Afterwards, the steel is tempered and tension-leveled to produce a high surface quality on the galvanized steel.
In addition to the material durability described above, Galvanized Advanced High-Strength Steel is a remarkably strong material. Because AHHS is both light-weight and exceptionally strong, advanced high strength steel is becoming the go-to material for the growing regulatory needs of the automotive industry and beyond. Its concentrated properties allow manufacturers to easily reach their emission, safety, and fuel […]