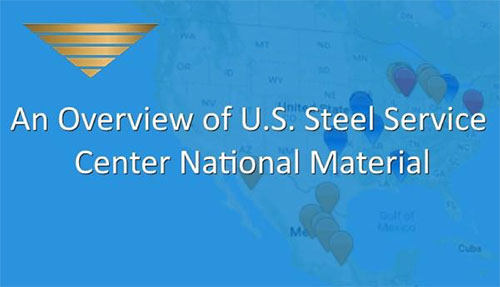 You know National Material Company as a company that specializes in supplying, servicing and processing steel with unmatched efficiency. We operate steel processing facilities and service centers throughout the U.S. and Mexico to serve your manufacturing needs in a wide variety of markets.
But the full scope of NMC's parent company, National Material L.P, is much larger.  NMLP and its affiliates have a long history of quality and service dating back to 1964.  NMLP serves many industries throughout the globe and is one of the largest suppliers of steel in America. With over 30 business units, this families' capabilities go beyond just steel service.
Here, we will provide a brief overview of National Material's family of companies, separated into six categories – steel service centers, steel processing facilities, stainless steel and alloy manufacturing, aluminum manufacturing, raw material trading, and related operations.
The NMLP Steel Group includes National Material Company, National Material of Mexico, and Interstate Steel Company. Together, these three companies have made NMLP a well-recognized leader servicing the needs of the steel industry and leading industrial and consumer product manufacturers by means of nineteen specialized processing facilities located throughout North America.
National Material Company operates ten steel service facilities and is the family's premiere steel manufacturer in the U.S. NMC specializes in supplying, servicing and processing the following: Hot Rolled, Cold Rolled and Cold Rolled Motor Lamination Steel, Oriented and Non-Oriented Electrical Steel, and Galvanized, Galvannealed, Aluminized and other coated metals.
National Material of Mexico operates seven steel servicing locations between partners and wholly owned facilities. NMM is the premier processor in Mexico for a variety of steel products, from uncoated non-exposed to coated exposed carbon steel in slit, sheet or blank form, in all steel grades available on the market, including all types of AHSS steel grades.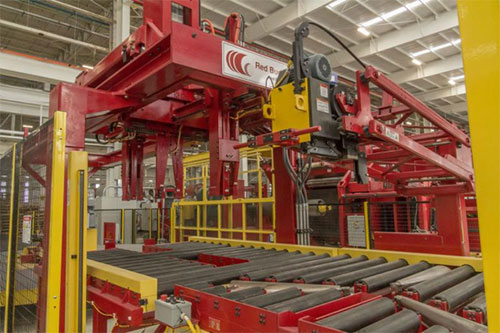 Interstate Steel Company is a division of National Material Company and provides highly engineered pre-painted products. ISC also specializes in processed cold rolled & galvanized products. Interstate Steel's capabilities include precision high speed slitting of surface critical products.
National Material Processing operates three slitting and two pickling and cut-to-length steel processing facilities and was the first steel processor to introduce a push-pull pickle line in the Indiana Harbor area. NMP specializes in the processing of heavy gauge, hot rolled carbon steel up to .500″ (1.27cm) thick and offers precision slitting, cut-to-length and advanced PRO-ECO, hydrochloric acid pickling services.
Interstate Steel Processing (ISP) is a premier national distributor of flat rolled steel with a primary focus on the prepainted steel market. ISP was the first service center to sell prepainted steel, and has been a leader in the evolution of prepainted steel technology and applications since 1972.
National Galvanizing is a leader in heavy gauge galvanizing and is recognized as the first galvanizing plant in North America to continuously hot dip .250″ (.635cm) steel. Its state-of-the-art facilities provide a high level of flexibility and responsiveness in meeting the changing needs of its customers. Additionally, NG boasts an impressive 99% on-time delivery record.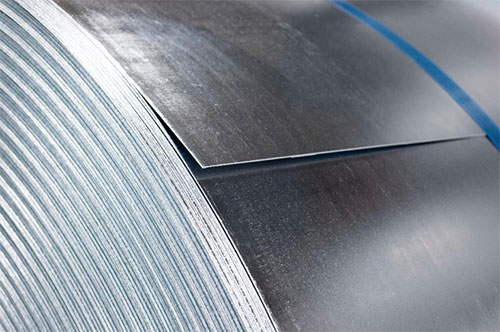 National Blanking is a joint venture between National Material Company and Heidtman Steel Products. The two companies partnered to offer their customers operational blanks that include utilizing expertise in high strength low alloy steels, as well as Advanced High Strength Steel.
Waukegan Steel LLC is a structural steel, miscellaneous and architectural metals fabricator, as well as a steel job shop and warehouse. Waukegan's capabilities in the industry are wide and varied ranging from multi-million dollar commercial projects to simple projects like railings or beams for a single family home.
CMM and CMC are premier processors and distributors of flat rolled stainless steel sheet, strip, and foil.
Elgiloy Specialty Metals has facilities in Elgin, Hampshire, and Sycamore, IL and processes and markets over 45 high-performance nickel-cobalt, titanium and stainless alloys to customers in the Aerospace, Automotive, Electronics, Medical and Energy markets.
The NMLP Aluminum Group includes leading extruders and processors of thousands of different aluminum alloy components used in virtually any application. Offering a broad array of capabilities and backed by design, fabrication, testing, treatment, inventory management and quality assurance, this group has shortened the developmental lead-time and expense of aluminum component manufacturing for customers.
Taber Extrusions, LLC is a fully integrated aluminum products extruder producing thousands of uniquely shaped and sized parts. Taber Extrusions originally pioneered a process for extruding rectangular billets which enables the company to extrude solid profiles up to 31 inches wide or hollows up to 29 inches. Taber expanded with the purchase of an extrusion facility in Gulfport, MS in 1995 which houses a casthouse and two additional presses, with a fabrication area that has been expanded multiple times. Today, Taber Extrusions is still growing with the launch of expanded capabilities that include microextrusions, friction stir-welding, and 7" billet molds.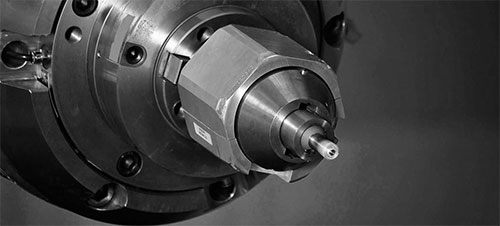 Tower Extrusions, Ltd. manufactures more than 10,000 different solid and hollow extruded shapes and parts. They offer aluminum extrusions up to 14.5″ (36.8cm) circle size, 2-step color anodizing in lengths up to 38.5′ (11.7m) and a full complement of fabrication services that include polishing, cut-to-length, de-burring, drilling, milling and punching.
Astro serves in the manufacture of residential grade extrusions for replacement windows, sunrooms, solariums, and RVs. Astro Shapes also provides high quality aluminum extrusions for commercial, heavy commercial, and architectural grade products.
Raw Material
NMLP Raw Material Trading Group is comprised of two trading companies that are recognized for their exceptional quality products and service. The raw material trading group offers customers unmatched service through long-standing relationships with mills and companies, as well as integrated connections throughout other NMLP companies that afford for greater flexibility and logistical advantages.
National Material Trading (NMT) is a leading importer of basic, foundry and ductile pig iron from Brazil, providing the United States steel and foundry industry with high quality, low cost virgin iron units. Through an extensive network in Latin America, NMT also sources iron alternatives such as hot briquetted iron (HBI) and direct reduced Iron (DRI). NMT's international logistics experience provides full service management to deliver products anywhere in North America at the lowest cost to customers.
Related Operations
NMLP Related Operations Group has a broad array of applications and capabilities, each providing high value services and products to their customers. Made up of five separate manufacturing, processing and trading operations targeted at servicing the specific needs of its highly differentiated customer segments, related operations range from building manufacturing and coating to metal casting and aluminum trailer production.
Global Tooling Resources (GTR) is an innovative company that is staffed with highly skilled engineering talents serving clients globally in various industries as a worldwide source of Engineering and Supply Chain Management Services. With high efficiency at a lower cost base, GTR can assist its clients to reduce costs and add value at every stage of the clients' Manufacturing Product Lifecycle.
National Coating Technology has developed a series of wear-resistant and protective coatings using advanced Physical Vapor Deposition (PVD) technologies. NTC's unique coatings, such as TiN, CrN, TiAN, TiCN, ZrN and multi-layer coatings, are widely applied on machine components, medical parts, cutting tools, die & mold, plumbing fixtures, cookware and other applications.
Metal Resources International manages the import of ferrous and nonferrous metal casting and forging for a growing list of steel mills, railroad car manufacturers, equipment manufacturers, and customers within the automotive and truck industries. Drawing on over thirty-five years of international business experience, the company instructs customers on securing imports with domestic convenience and benefits.
Corefficient S.R.L. de C.V. designs, manufactures and markets energy efficient electrical cores; a major component used in the manufacture of dry-type and liquid-filled transformers. Based out of Monterrey, Mexico, the joint venture agreement between Hammond Power Solutions Inc. and NMLP is reflective of the strong, long-term relationship between the two companies which both bring the value of people, technology and financial strength to Corefficient.
SKD Tooling Company Ltd is an automotive tooling facility located in Wujiang district, Suzhou City of the Jiangsu province in China. The company is capable of building a complete line of mid to large size automotive stamping tooling, including progressive dies and transfer dies.
SKD's objective is to establish a world class tool & die and components manufacturing facility in mainland China to supply the domestic and international automotive industries.
National Material has an impressive network of steel and metal service companies, providing an unmatched breadth of capabilities for their customers. Since 1964, NMLP has been setting the standards of steel – not only in quality of product, but in the kind of comprehensive service that can only be achieved with a tight-knit family of integrated steel service partners.
About National Material L.P. – With more than 3,000 employees from a multinational portfolio of companies, NMLP provides engineered metal products, including aluminum extrusion and stainless steel rolled products, to automotive, aerospace, construction, defense, electrical, and industrial markets.
Visit National Material: http://www.nationalmaterial.com or call (U.S.) 847-806-7200, Diana Pulido.