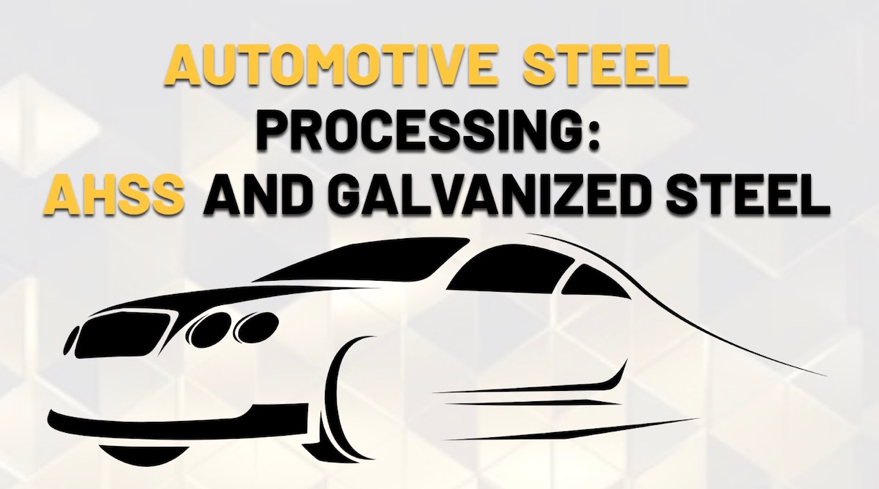 Steel continues to be the frontrunner when it comes to car manufacturing because of its strong and dependable nature. According to worldsteel.org, there are several benefits of using steel in automotive production. Steel:
● Contains recycled steel and is endlessly recyclable.
● Has lower CO2 life cycle emissions than any other automotive material.
● Enables engineering of crash-resistant structures.
● Is a higher strength steel that enables lightweight vehicle construction that is stronger, safer, and more fuel-efficient
● Enables creative, flexible designs.
● Is easy to repair with existing techniques and equipment, making repairs more affordable.
● Is cost efficient compared to all other structural materials.
There are several common uses for steel in an automotive vehicle. Most of this steel is found in the skeletal body of the vehicle, often called the "body in white," which is the foundation from which the rest of the vehicle is created.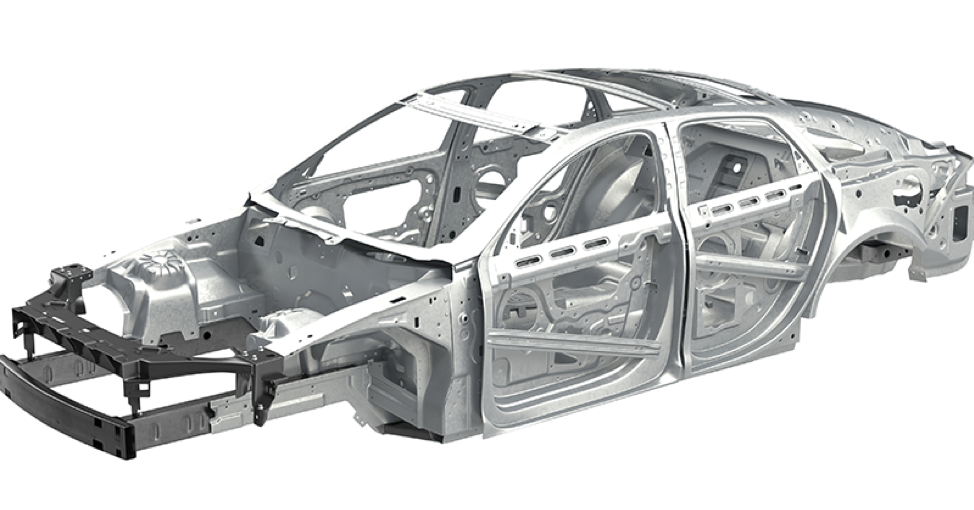 Bumpers and Reinforcements
Bumpers are some of a vehicle's first defenses against any major impact, thus they demand a very high level of force absorption. The durability and crash resistance of high strength steels make it a great option for bumper systems. Further driving its use is the ability to employ a thinner steel, promoting additional weight savings. UHSS bumpers are typically roll formed. For more detailed information on steel bumper systems for passenger cars and light trucks, visit this website: https://www.a-sp.org/-/media/doc/smdisteel/bumpers/smdi-steel-bumper-systems-manual-6th-edition—january-2019—final.ashx
There are many other areas of a car that need strong reinforcement. Sill reinforcements and cross-members, for instance, both require high energy absorption. Stiffness can be maintained when transitioning to thinner panels by changing the geometry of the parts. High strength steels are well suited for these forming challenges, with the reduced thickness leading to a lighter weight part.
Door Beams and Seating
Again, weight savings are a major consideration here. Side impact beams are now commonly made using the highest strength steels, leading to both increased safety and lighter weight products. While seats are not traditionally considered part of the Body-in-White, they are some of the heaviest items in a passenger vehicle. As such, they are prime candidates for lightweighting using high strength and durable steels.
Chassis and Frames
High-strength steel benefits the entire frame's support capabilities. The chassis is subject to some of the most extreme stresses seen on any of a car's parts, so it needs excellent fatigue resistance properties – such as those found in high-quality steel. Using high strength, high formability steels allows the vehicle designer the flexibility to create lightweight complex shapes while maintaining the structural integrity demanded by the application.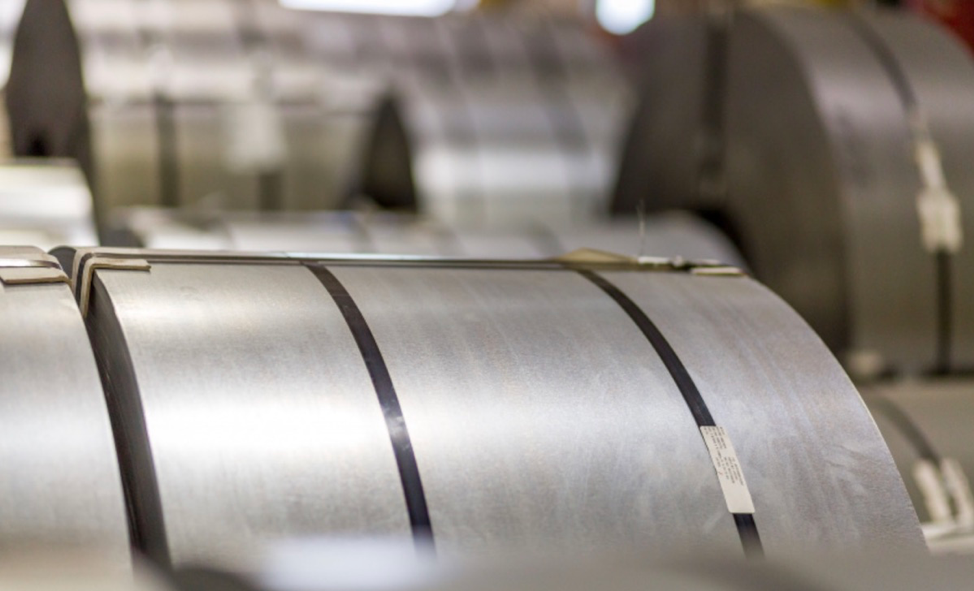 Advanced High Strength Steel
Forbes.com recently cited that advanced high strength steel (AHSS) is now becoming the type of steel that major steel companies are producing, in order to meet the demands of the automotive industry. In the automotive industry, materials used to form vehicle parts are chosen based on a number of important criteria, among them strength, ductility, cost, and "manufacturing friendliness." The automotive industry calls for the continuous development and manufacturing of AHSS to maximize the strength of steels used for parts while enhancing safety, reducing weight, and providing a viable alternative to more costly aluminum alloys.
One of the reasons automakers find AHSS more beneficial than other types of steel is because of its safety component, especially when used for structural elements of the car where high strength with reasonable ductility is important. AHSS has become the material of choice for passenger safety cage components like sill reinforcements, A-pillars, B-pillars, side impact beams, waistline reinforcements, bumpers, and roof bows, seats.
According to steelsustainability.org, AHSS is also beneficial for the environment. It has a decreased carbon footprint. It's strong, light, and produced with a reduced life cycle impact – helping automakers decrease a vehicle's cradle-to-grave carbon footprint. Worldsteel.org reports that the use of AHSS contributes to a significant reduction in greenhouse gas emissions when compared with what other steel grades and aluminum alloys? New grades of advanced high strength steels enable carmakers to reduce vehicle weight by 35-40% compared to conventional steel. When applied to a typical five-passenger family car, the overall weight of the vehicle is reduced by almost 600 pounds, which corresponds to a lifetime saving of over 4 tons of greenhouse gases over the vehicle's total life cycle.
Greenhouse gas reduction is one of the factors accelerating the transition from vehicles powered by internal combustion engines (ICE) to alternative approaches such as hybrid and electric vehicles. Cost efficient lightweighting is crucial in these vehicles, due to the need to offset battery cost and weight. For these reasons, electric vehicle producers incorporate AHSS into their body structures.
At National Material Company (NMC), we are committed to the processing of advanced high strength steel. We support a variety of AHSS types: Dual Phase, Martensitic, Complex Phase, TRIP Steel, and Press Hardened Steel. NMC operates slitting, pickling and cut-to-length steel processing facilities which serve the needs of the steel industry and prominent industrial and consumer product manufacturers.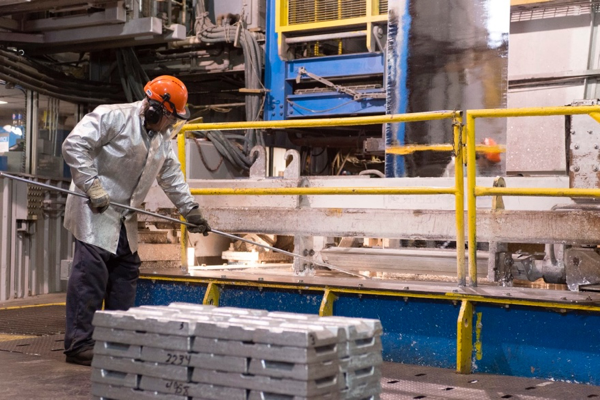 Galvanized Steel
You may reflect fondly about the cars of the 60's and 70's, but they became rust-buckets if they were scratched. Automakers started to turn to galvanized steel in the 1980's, which allowed them to offer corrosion warranties. Now, some manufacturers offer a 10-year warranty on some forms of corrosion. What made this possible? The use of galvanized steel on the majority of body panels. NMC is proud to offer the highest quality galvanized steel helping our customers in all industries create long-lasting corrosion-resistant formed parts.
Galvanized steel is used for its strength, ductility, and corrosion protection. The zinc coating protects the base metal by acting as a barrier to corrosive elements and will corrode preferentially to the steel underneath. The sacrificial nature of the coating results in a long-lasting and high-quality steel product.
The steps in the galvanizing process are as follows:
● The steel is cleaned in a degreasing solution
● After being cleaned, the steel is pickled by being lowered into a vat of diluted hot sulfuric acid
● The steel is then fluxed in an aqueous solution (typically zinc-ammonium chloride)
● After the flux, the steel is galvanized through immersion in a vat of molten zinc
● Afterward, the steel is inspected for consistency and a complete coating
This is the batch galvanizing approach, where discrete full parts are dipped in the zinc bath. National Galvanizing uses a continuous galvanizing approach where only a small portion of the coil is in the liquid zinc at any one instant. Info can be found here: https://www.ahssinsights.org/news/ahss-corrosion-resistant-coatings/
Galvanized steel is used for its durability, cost effectiveness and, most importantly, its rust-resistant qualities. Choosing galvanized steel initially may seem more expensive than using uncoated steel, but it's a great investment in the long run. Galvanized steel is low-maintenance and esthetically pleasing. Steel that lacks a protective coating requires more maintenance to upkeep the appearance and structural integrity of the product. Galvanized steel is long lasting; coatings can have a life expectancy of up to 50 years and can withstand urban and coastal exposure. Every inch of galvanized steel is protected—this includes sharp edges and those hard-to-reach crevices.
Galvannealing is a similar type of zinc coating. Here, the base metal is coated by the hot-dip process, then heated to induce alloying between the molten zinc coating and the steel. The resulting zinc-iron alloy has a dull matte surface. Galvannealed steel is conducive to welding and the surface is excellent for paint adhesion.
NMC's partner company, National Galvanizing, offers the galvanizing and galvannealing. The first North American line to hot dip up to .250″ thick material, National Material has over 30 years' experience in galvanizing and galvannealing for various industries. All systems are continuously monitored to ensure accurate coating weights and superior adhesion.
To promote tracability, National Galvanizing installed Ink Jet Printing capabilities, so the coil can contain documentation including:
● up to 5 lines of text
● upper and lower-case letters featuring many fonts
● minimum letter size; 3/32″ maximum 5″
● clock and calendar functions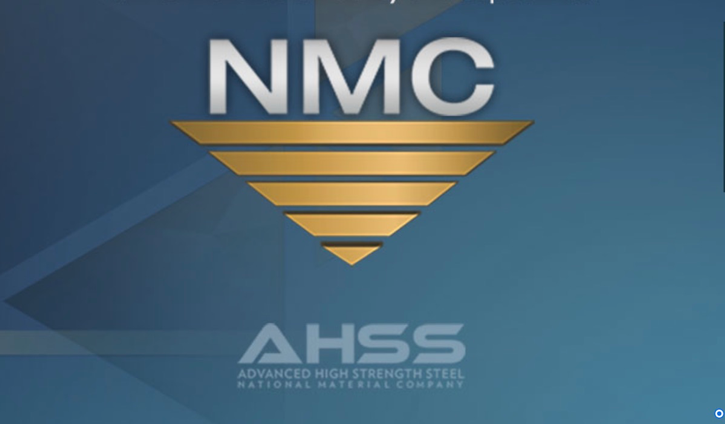 For more information, visit our Galvanized Steel page or our National Galvanizing website.
National Material Company
NMC and its partner companies, National Material Mexico (NMM) and National Galvanizing, offer our clients over 50 years of experience. The Red Bud Steel Slitter at our NMM plant in Monterrey, Mexico gives us the ability to process Advanced High Strength Steel for the automotive sector and critical industry applications. Our Monterrey plant's carefully managed flow process creates an intuitive, efficient course for rail, truck, and processing. With the recently completed expansion project, NMM increased its storage and rail receiving capacity. The truck flow was reconfigured in order to make pickup and receiving a seamless receiving and shipment of products. Also available at NMM is our Stamco 60" slitter and our Reusch 48" slitter, ideally suited for appropriate products. NMM is in close proximity to many automotive OEMs and suppliers, allowing for on-time fulfillment of mission-critical high value steel.
National Galvanizing is a leader in the heavy gauge galvanizing industry. The 245,000 square foot, state of the art facility, features pickling, galvanizing, galvannealing, and slitting, all in one location, convenient to major markets. This combination of capabilities provides our customers with unparalleled responsiveness to meet the ever-changing demands of today's market. National Galvanizing is ISO 9001:2008 certified; we believe quality starts with a sincere commitment to excellence, exhibited by extensive training for all employees in the processes of problem solving and quality control techniques.
At NMC, we understand our automotive clients' need for stringent processing standards. Choose an experienced steel processor with 16 service centers throughout the US and Mexico. We produce and process our metals in house, working directly with you to meet your specific needs while achieving time and cost savings.
Become a customer today! Visit NMC at http://www.nationalmaterial.com/. Or you can contact sales via our website or call us at 847-806-7200.