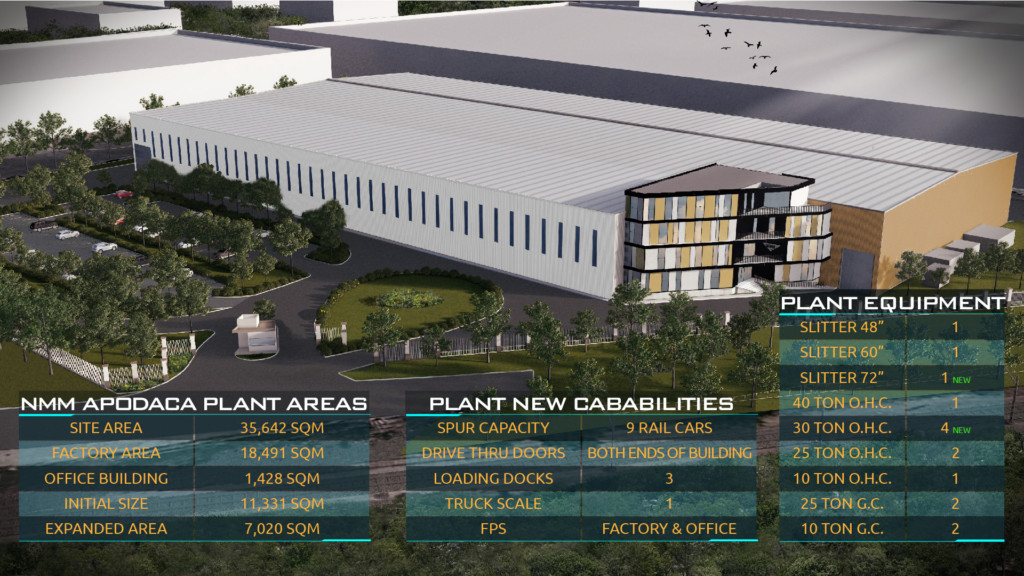 National Material of Mexico, a subsidiary of National Material L.P., one of the largest automotive-focused flat rolled processors and distributors in Mexico, is expanding its Monterrey facility by 82,000 sq. ft. (7,700 sq. meters) to add capability for processing Advanced High Strength Steels, increase its railcar receiving capabilities, and to create a new headquarters office building.
NMM will host an Open House on November 28th, 2017 to show customers, suppliers, and leaders of government the outcome of their latest project that is expected to create 50 jobs. According to Carl Grobien, Vice President and General Manager, "To meet the demands of customers' requiring advanced high strength steels, we needed to make this investment. We decided to increase slitting capacity and improve our process for unloading and handling shipments to become more efficient and responsive to our customers' needs. To make room for the slitter we moved our existing office space to a brand new modern office building. These are very exciting times for our company that will benefit our customers."
The new Red Bud 72ʺ (1830mm) wide slitting line with in-line leveling has a thickness range of .012" – .250" is capable of slitting grades up to 250,000 psi (1725 MPa), mainly used in mass reduction engineering designs for parts used in cars and trucks. National Material of Mexico, with its network of seven plants (including joint ventures), has a combined slitting capacity of > 1 million tons and a configured blanking capacity of 300,000 tons.
About National Material L.P. Elk Grove Village, IL – With more than 3,000 employees from a multinational portfolio of companies, NMLP provides engineered metal products, which includes aluminum extrusion and stainless steel rolled product companies, to automotive, aerospace, construction, defense, electrical, and industrial markets.
Visit National Material: http://www.nationalmaterial.com or call (U.S.) 847-806-7200, Diana Pulido