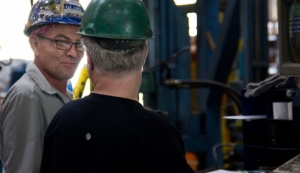 "We've only been working with NMC for a little over a year. That's why this is so unique." explained Trevor Medley, Assistant Manager of Purchasing at Hi-Lex Controls, Inc. "We have 118 individual suppliers and NMC was selected for cost reductions."
On October 22, 2013, NMC's Craig Nollar and Kevin Anderson attended the 2013 Hi-Lex Supplier Conference. The recognition came as a surprise, although they knew that Jerry Fix and NMC's great team of associates had a flawless performance on the GMT900 program over the course of the year. NMC "took the bull by the horns" when it came to potential capacity challenges, making sure Hi-Lex experienced absolutely zero quality issues or delivery complications. This is memorable circumstance where the people that do the heavy work are being honored and recognized. For approximately a year and a half, NMC has been handling the slitting, packaging and shipping of 100 to 120k per week of the GMT900 products.
Hi-Lex determines their outstanding suppliers based on 3 criteria: cost reduction, delivery performance, and quality performance. "NMC wouldn't have been considered if they hadn't performed above and beyond, exceeded our expectations in all 3 categories, " added Medley.
Congratulations and thanks to all associates for a job well done.
About Hi-Lex Controls:
Founded in 1946, Hi-Lex Controls is one of the leading companies in the control cable technology industry. It delivers control cables, window regulators and door modules, as well as operates various facilities in more than 10 countries worldwide. The company produces over 10 million automotive cable applications and window regulators annually. Hi-Lex supplies its products for recreational vehicles, such as boats, personal watercrafts, motorcycles and golf carts. It also works to reduce waste and land fill utilization, hazardous material and energy consumption. The company offers a range of closure products, such as quarter vent actuators, power lift gates and power sliding door products. Hi-Lex also operates a sales, engineering, research and development center. Headquartered in Rochester Hills, Mich., it also maintains a location in Hudson, Mich.