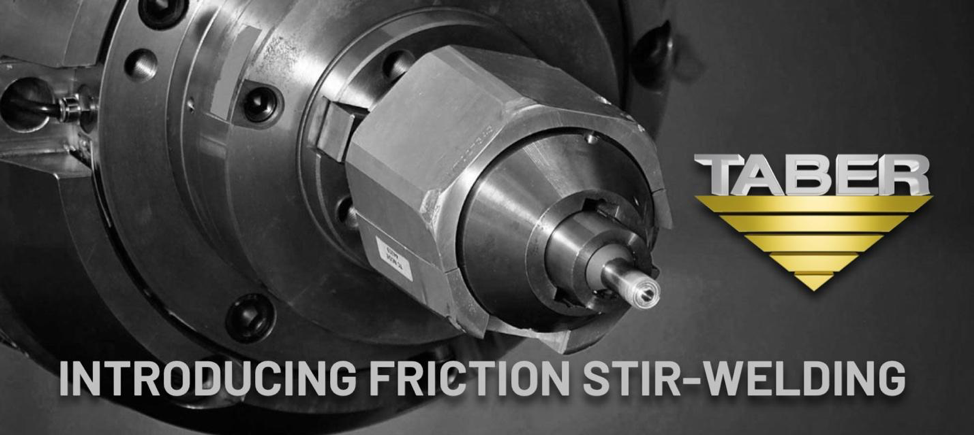 National Material partner Taber Extrusions of Russellville, AR. and Gulfport, MS. have announced the addition of Friction Stir-Welding capabilities to their existing portfolio, which currently includes aluminum extrusions, fabrication, billet casting, and micro-extrusions.
The addition of in-house FSW capabilities positions Taber as a vertically integrated supplier of FSW panels and assemblies previously unseen in North America. This new technology allows for finished product applications in military, bridge building, railroad refrigerated containers, and more – and brings with it the technological capacities to develop new products.
Eric Angermeier, President of Taber Extrusions, says:
Besides the additional jobs and revenue this expansion will bring to our central Arkansas community, we are very much looking forward to Taber's new horizons into technology and product development. The welder will be housed in a new 60,000 square foot expansion to our current Russellville facility. This equipment further promotes our strategy of moving Taber toward being a solutions-oriented company offering highly engineered products.
This Friction Stir-Welder, with the latest technology, is purposely built for the long, wide extrusions being produced on our current extrusion presses. This process gives us the added benefit of vertical integration allowing us to not only better serve our existing customers, but gives us the opportunity to develop new markets and products.
Sometimes described as more of a forging process than actual welding, Friction Stir-Welding is a solid-state joining technique used to combine metals not easily fused with traditional welding. Ideal for metals such as aluminum, copper and other metal alloys, FSW is commonly used in the aerospace, rail, automotive, shipbuilding, transportation and marine industries. Friction Stir-Welding makes possible high-quality welds with minimal distortion. It is also a process that can be easily automated, making it an ideal solution for industrial use.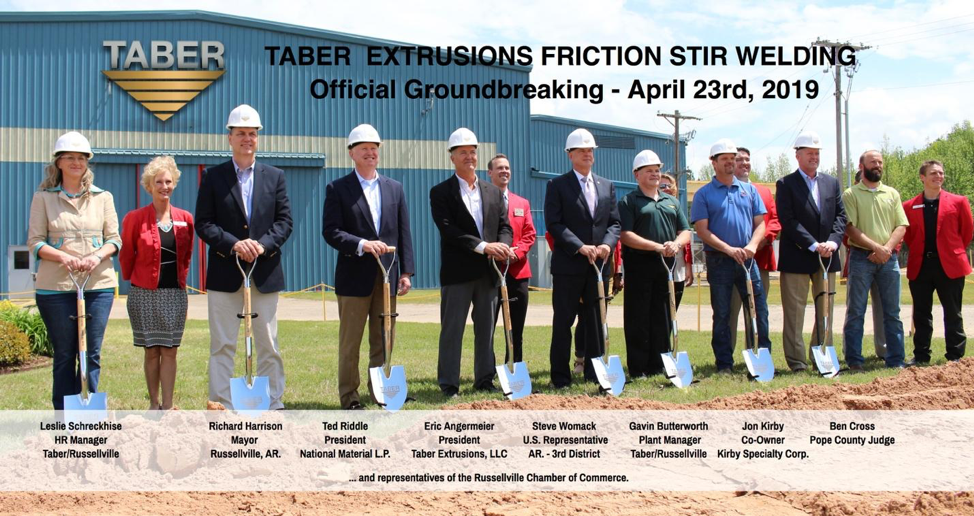 Taber Extrusions recently hosted a ground-breaking ceremony which included State Representative Steve Womack amongst other state and local leaders.
Congressman Steve Womack described how he sees Taber's role from a national perspective, "The expansion of an existing company such as Taber Extrusions means a lot more than the location of a new company. It means that Taber is in the right place and has what it needs to succeed. Taber plays an important role in the defense of our nation with products that are an asset to our defense capabilities."
Taber historically provides for many industries, including aerospace, shipbuilding, infrastructure, automotive, as well as military and defense.
Taber is already known for their wide range of capabilities, both broad and unique, and Mayor of Russellville Richard Harris thanked Taber for choosing Russellville as their location, "The fact that you chose to expand and add new technology here is the highest compliment you can give the city and citizens where you live and work. Economic development and job creation is one of our top priorities. We congratulate Taber on this advancement."
About Taber Extrusions
Founded in 1973, Taber Extrusions originally pioneered a process for extruding rectangular billets which enables the company to extrude solid proles up to 31 inches wide or hollows up to 29 inches wide. In 1995, Taber expanded with the purchase of an extrusion facility in Gulfport, MS., which houses a cast house and two additional presses, and multiple expansions of value-added fabrication services. Taber continues to extrude billets in a wide range of alloys and sizes, including 7"billet molds, and has diversified its markets beyond military to include aerospace, automotive, marine, infrastructure, and sporting goods, among many others. For these markets, the company supplies extruded products in a variety of soft and hard alloys. In 2018, Taber added ultra-precision extrusions to their capabilities allowing them to further serve customers in electronics, computer, and medical industries. Today Taber is proud to announce yet another exciting launch, this time into Friction Stir-Welding.