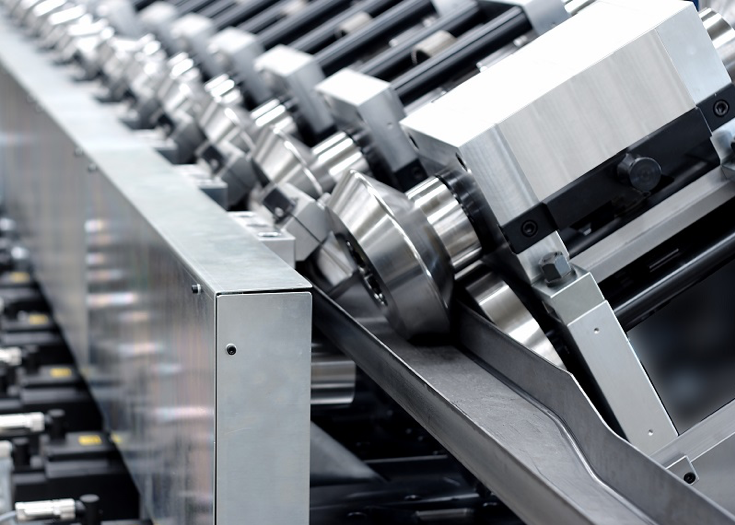 Roll forming is a continuous process which converts sheet metal into an engineered shape using consecutive sets of mated rolls, each of which makes only incremental changes in the form.  The sum of these small changes in form is a complex profile.
The Forming Process
 In conventional stamping the entire part is formed all at the same time. The part shape – and especially how complex it can be is limited when the strains from forming exceed what the metal is capable of achieving before splitting.  In roll formed parts, only a small amount of forming strain is put into the part during each station and even here, only a small section is bent at any given time. Because of this, more complex shapes can be achieved with an appropriately designed roll forming process.
In the forming process, a coil or long individual strips are fed through a roll forming line which converts the flat sheet to a contoured cross-sectional profile. The unique aspect of this approach is the use of consecutive forming stations, each of which nudges the metal towards the desired shape.  Based on the targeted profile, a computer calculates the optimal placing and shape of the rollers for maximum efficiency and designs the track.  The more advanced the desired shape, the more rollers the material goes through. The roll forming line can bend metal, form metal into tubes, create metal maze-like structures, and punch the metal with holes during the process.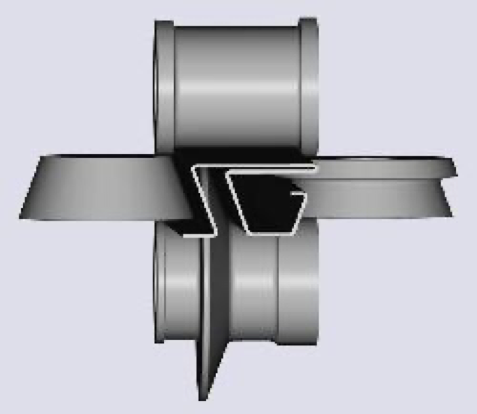 The rollers are precision-contoured metal dies that shape the incoming sheet metal. In most cases, they are also the powered drive rolls that pull the strip through the roll forming unit. These rollers can be as simple as the cylindrical rollers used to roll luggage through airport scanners, or they can take on more intricate shapes. After the final forming station, the strip is sheared to the ordered product length. Typically, no additional work is needed before shipment, since the final form has been achieved.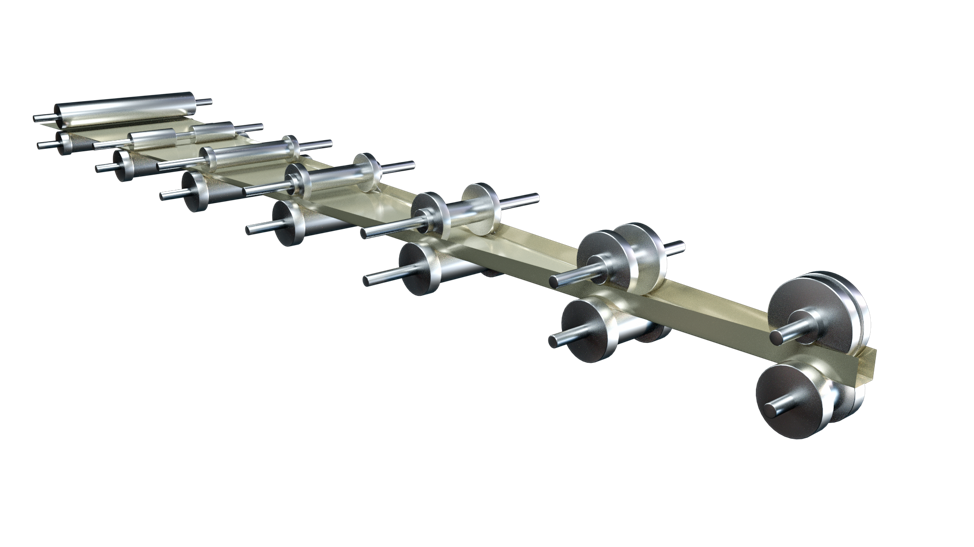 Advantages of the Roll Forming Process
There are a variety of advantages to roll forming. Because of the "assembly line" efficiency of roll forming, long lengths of metal can be produced and cut in large quantities, which reduces cost.  Secondary processes such as punching or even welding can be integrated into a single production line. The profiles that can be produced using roll formed sheet steel are similar to what is seen in extruded aluminum.
The roll forming process makes creating lighter-weight steel parts easier compared to other shaping processes, since the wall thickness can be targeted based on the structural needs of the component.  Parts can be rolled even if a finish or paint has been applied. While hot forming can produce similarly complex profiles, roll forming is a room temperature process.  As such, it avoids the distortion risk associated with hot forming, while being more energy efficient at the same time.
With these many benefits, it is no surprise that roll forming has applications in many industries, including automotive, appliance, construction, agriculture, solar, and racking.
National Material Company supplies steel to the roll forming industry and offers a variety of material types and grade options to cater to a variety of roll forming processes also including tubers. NMC provides a wide array of steel offerings including:
Hot roll pickle and oil
Hot roll pickle dry lube
Hot roll black
Galvanized
Galvannealed
Electro Galvanized
Cold roll
Stainless Steel
High Strength Steel
Advanced High Strength Steel
Aluminum
NMC has over 50 years of metals expertise that we'd love to share with you. Please contact us at nationalmaterial.com, email us at nmcsales@nmlp.com or call (U.S.) 847-806-7200 to discuss how we can be of service.
About National Material L.P. – National Material L.P. ("NMLP") and its affiliates have a long history of quality and service dating back to 1964. Since its founding, the company has grown to over 30 business units and is now one of the largest privately held suppliers of metal related products in North America.